MYO Rebrand
MYO went through some big changes in 2019 and unless you're a first time MYO customer, you'll no doubt have noticed the new branding, packaging and indeed this website, and you might ask why we put the brand through this complete overhaul.
The journey began when we were doing some market research in 2018 in The Range stores and noticed a lot of pouches wouldn't stand up on their own. A lot of people we talked to also said they didn't even notice the products as they walked past the display, and so it became obvious that something needed to change.
Another area that wanted updating was the logo which hadn't changed since launching the brand in 2012. A bit rough round the edges and peculiar green in colour, we thought it was about time it was updated.
The idea at first was to keep the logo concept the same i.e. the words "MAKE YOUR OWN" with 3 drinks next to it. However, following further market research and having read a lot of online forums where people often referred to "MYO", we decided to focus in on this and completely revamp the branding instead. This meant creating a whole new set of brand guidelines including what fonts we use and where, how the logo is displayed and even our tone of conversation.
Following many iterations, the final logo comes in four variations, each using the centre of the O to represent Wine, Beer, Cider and a plain version. We believe this is a bold logo that makes a statement, where 'MYO' can have a sort-of double meaning; MYO = My Own, which is what the products are all about – creating something of your own.
The next step was packaging design. To make the new products stand out (and actually stand) on the shelf, we decided each drink should have its own colour and the product needed to go into a stand-up carton. Whilst conscious that this may increase packaging, it was completely necessary to make this change and we found it actually helps to reduce packaging in other ways. Read about this and other ways we're trying to reduce our carbon footprint here.
Another part of the journey was to review the range of drinks the kits make. We mainly based this on kit sales, as well as feedback from our customers. During our review, it became apparent that our three wines, White, Red and Rosé needed no change whatsoever. After all, if it ain't broke, don't fix it! With 3 wines as a starting point, we decided to have 3 varieties each for the beers and ciders too, to keep things consistent.
For the beers, we wanted to introduce a new recipe – American IPA which we were very excited about as the finished beer is excellent. This naturally replaced our India Pale Ale. Irish Stout was also introduced to add some variety to the range, this was an old recipe which we tweaked and improved for today's market. Premium Lager remained the same, as we know it tastes great and it's also a favourite with many MYO customers.
Ciders didn't change much. Apple was kept the same, an obvious cider choice which can also act as a base that allows customers to add their own additions if they wish. Our Strawberry & Pear cider was changed to Strawberry & Lime, and Mixed Berry to Dark Berry to closer match commercial favourites people had spoken to us about during our market research.
Now we had our 9 styles and our newly branded designs and packaging! Don't worry if your favourite kit is no longer listed in our range, we'll also be releasing Limited Edition kits throughout the year – if there's any particular style you'd like to see, let us know!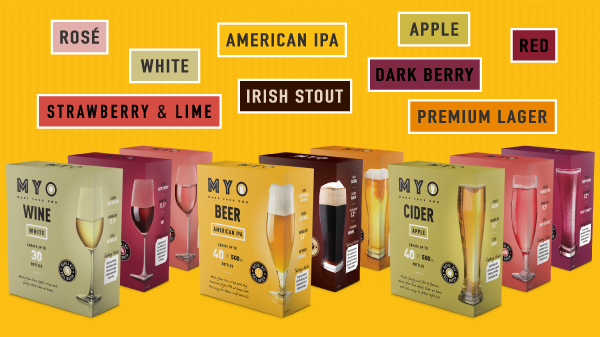 We couldn't change all this without changing our website, so this was the next big project. We wanted to make it a useful place to visit, so have added video instructions so you can see how we make the kits, as well as illustrated instructions with full details to refer to. We've also added FAQs, Articles (thanks for visiting), product information and a contact us section.
There's always more to come with the website so make sure you check back or sign up to our mailing list to be first to hear about our latest developments.
So that's the story of how and why we changed the brand like we did. We're still updating the equipment to the new branding so look out for those changes too.
We hope you like the changes we've made and are always open to your comments and suggestions – get in touch if there's anything you'd like to see. We can't promise anything but appreciate all feedback!